Day 2: Jewellery
This is the second installment of my coverage of a five-day young artist's workshop at the Harbourfront Centre that I have been invited to. Each day, a different pair of industry professionals will teach contemporary craft techniques and give brief histories on their respective mediums. Consider this my version of fashion week!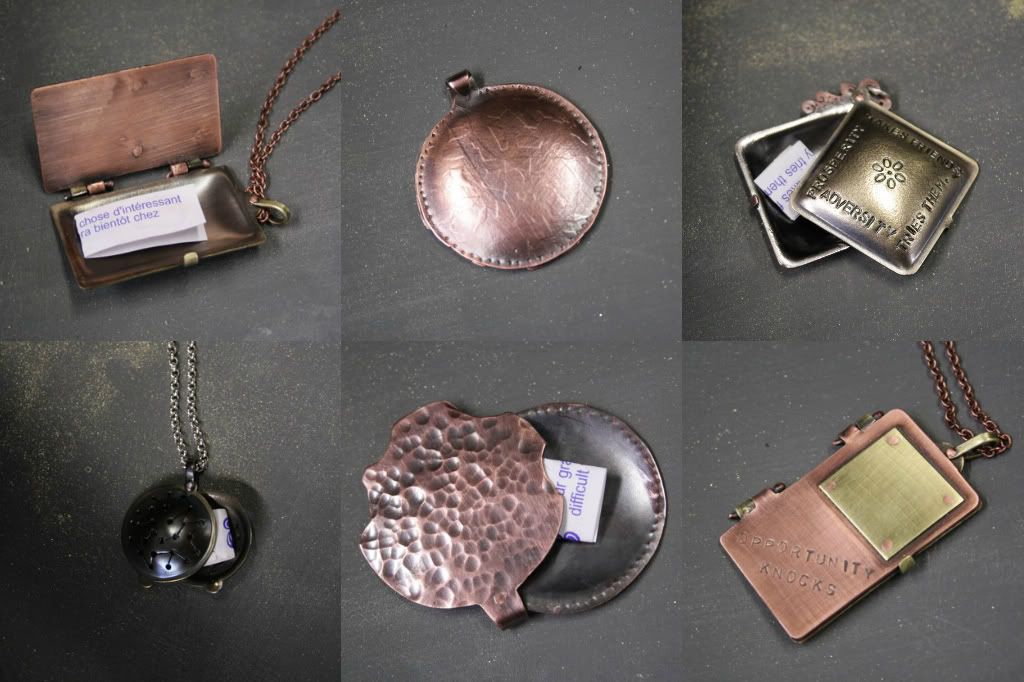 No, those are not the lockets that we made (although I wouldn't mind if they were!) The examples above were made by our instructors using the same materials and method as we. Today's challenge was to choose a fortune cookie and create a three-dimensional vessel which could be used as an object or made into wearable jewellery that is inspired by the fortune or which can contain the fortune.
We began, like every other day, with a demonstration. Our fabulous instructors showed us the materials and tools we would be using (bronze and copper sheet, saws, hammers, drills, stamps, pliers, files, rivets and patina) and the methods we would use (piercing, filing, finishing, hydraulic press and cold connections). It wasn't hard work, just hard on the fingers and hands. My already lacerated fingers from Day 1 now shrunk into silvery, metal-scented dry prunes.
After seeing how easily copper could be bent, I've realized how those souvenir shop penny-press machines work! When you crank a wheel, your penny is heated (somehow) and your penny is pressed through a rolling mill with a stamp of your location on it. That's why your penny comes out warm and slightly curved (rolling mills will curve metal sheets)!
Here's the effect of stamping (with letters):
Here's the effect of drilling, bending, stencil cutting and riveting:
After the demonstration, we got started on our own pieces. Everyone was given one sheet of copper and one sheet of bronze. My fortune was "You will run into an old friend soon". I thought about old friends of mine, and my old pet rat Misty came to me. I decided to drill a swirled texture on the surface of my locket to represent Misty's fuzzy hair and her long tail.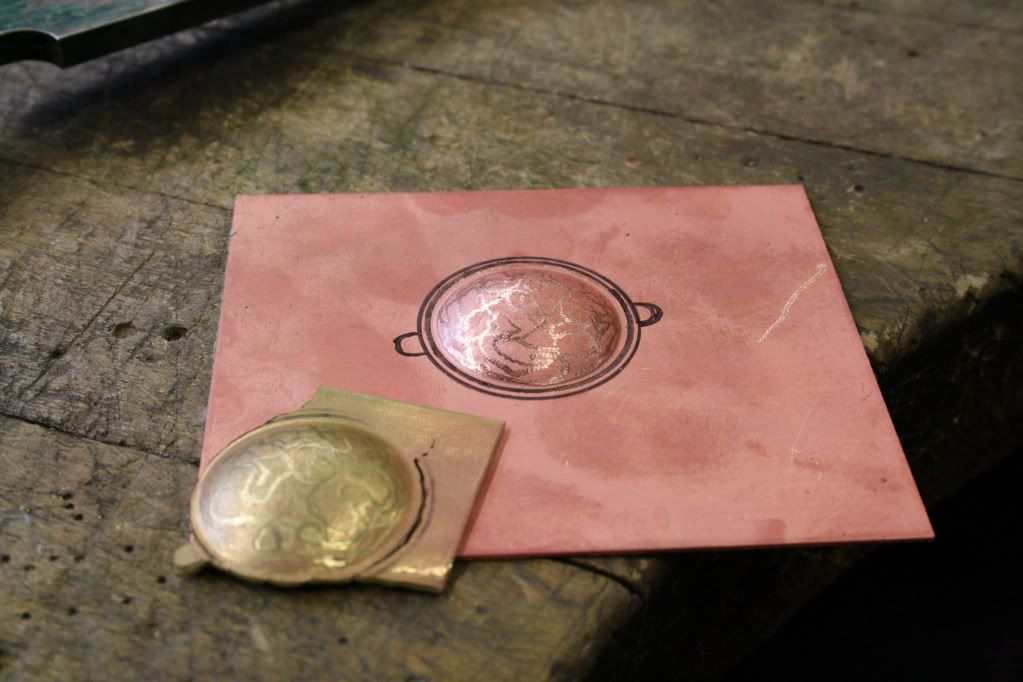 (At the time of the photo above being taken, I was almost done cutting one side of the locket out. The little knobs you see on the side are to be drilled a hole through to connect the two sheets with a rivet.)
I used a diamond drill bit to carve the texture of my locket. The bits were stored in the world's cutest hardware storage unit:
Let me tell you, those colours really stood put in the metalsmith studio!
My friend made this, by hammering with a ball-tipped hammer:
That's it for Day 2, I've got another blog post lined up with the finished pieces I've made after this series is complete!